Hari kemarin Linkin

Park

telah bermain di

Sunset Strip

Music Festival

, ini adalah

perform terakhir mereka

di

AS untuk tahun ini

. Berikut Setlist dari perform mereka kemarin :
01. A Place For My Head (2012 Intro; Ext. Outro)
02. Papercut
03. Given Up (Ext. Outro w/ Extra Note)
04. New Divide
05. With You (2012 Ext. Intro; Ext. Scratch Outro)
06. Somewhere I Belong (2012 Intro)
07. LIES GREED MISERY
08. Points Of Authority
09. Waiting For The End (Apaches Intro w/ 'UNTIL IT BREAKS' rap; Wall of Noise Outro)
10. Breaking The Habit
11. CASTLE OF GLASS
12. LOST IN THE ECHO
13. Numb (Numb/Encore Tease Outro)
14. What I've Done
15. BURN IT DOWN
16. In The End
17. Bleed It Out (Ext. Bridge w/ 'Reading My Eyes'; Ext. Outro)
18. Faint (Ext. Outro)
19. One Step Closer (Ext. Outro)
Berikut gambar setlistnya :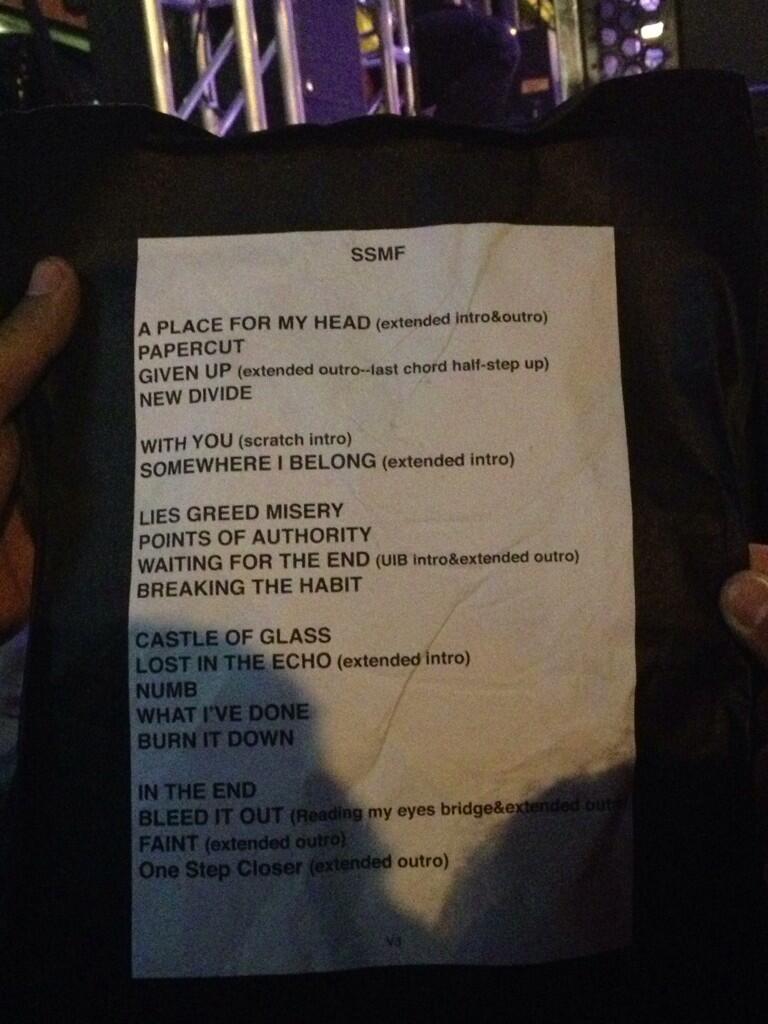 Lihat beberapa foto perform mereka di bawah ini :
selengkapnya bisa kalian lihat disini.
V

ideo wawancara oleh

KTLA

bisa kalian lihat di bawah ini :
source : LPL, LPFC, MSC
Penulis : ariyo duwi ~ Sebuah blog yang menyediakan berbagai macam informasi