Setelah tampil di Taipei, Taiwan, Linkin Park tampil di Kuala Lumpur, Malaysia, jadwal terakhir untuk Asia Tour 2013. Ini adalah kedua kalinya Linkin Park tampil di Kuala Lumpur setelah penampilannya yang pertama kali di tahun 2003. Setlist yang dimainkan adalah Setlist A, setlist yang sama saat mereka tampil di Hong Kong.
SETLIST:
01. TINFOIL
02. Faint
03. Papercut
04. Given Up
05. With You
06. Somewhere I Belong
07. New Divide
08. VICTIMIZED (w/ QWERTY)
09. Points Of Authority
10. LIES GREED MISERY
11. Waiting For The End (Apaches Intro)
12. Breaking The Habit
13. CASTLE OF GLASS
14. Leave Out All The Rest/Shadow Of The Day/Iridescent
15. The Catalyst
16. LOST IN THE ECHO
17. Numb
18. What I've Done
19. One Step Closer
Encore:
20. BURN IT DOWN
21. In The End
22. Bleed It Out ('Reading My Eyes' Bridge)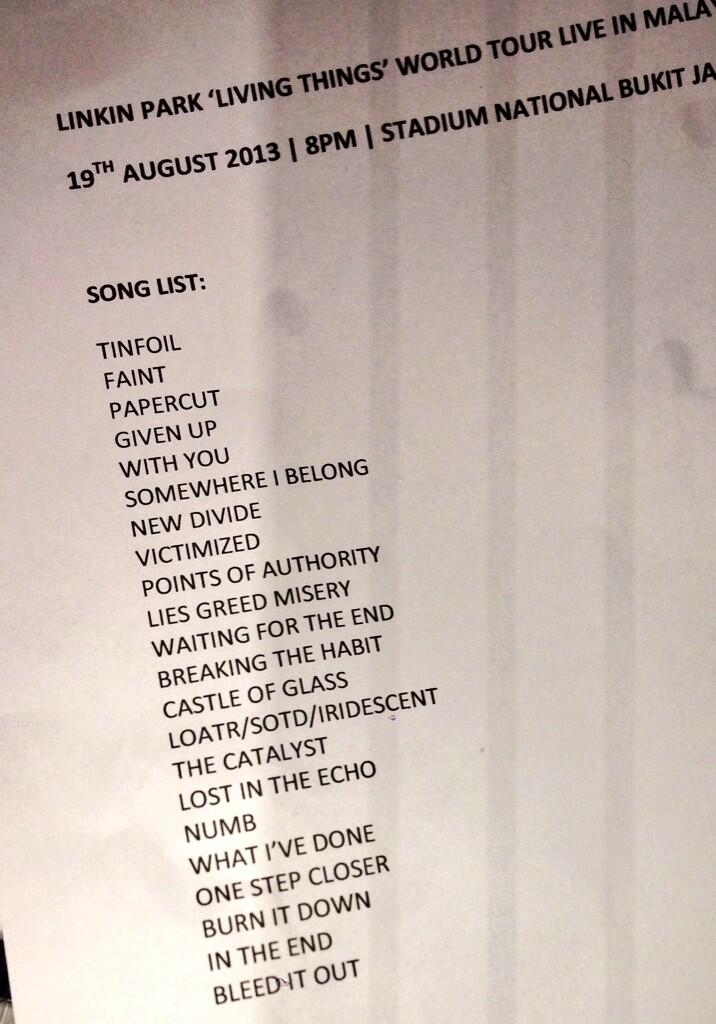 Sangat mungkin bahwa Linkin Park sekarang akan kembali ke studio di sisa tahun 2013, sedangkan Chester akan bergabung dengan
Stone Temple Pilots
di tour bulan depan di AS mulai 4 September untuk mempromosikan EP terbaru mereka.
source :
LPA
LPL
Penulis : ariyo duwi ~ Sebuah blog yang menyediakan berbagai macam informasi